Program Schedule
The Accelerated Master of Science in Software Engineering is a four-semester, on-campus degree program. The program consists of 30 units (10 courses) that are completed over 17 months. Students are grouped into a cohort that follows the same class schedule throughout the program.
The program curriculum is designed with the following learning goals: comprehension of software standards, implementation and management of software process, assessment/appraisal of software process, management of legal and ethical issues, collaboration and teamwork, critical thinking and problem solving, research and communication.
Core Courses
CPSC 541: Systems and Software Standards and Requirements
CPSC 543: Software Maintenance
CPSC 544: Advanced Software Process
CPSC 545: Software Design and Architecture
Software Process Evaluation Courses
CPSC 542: Software Verification and Validation
CPSC 547: Software Measurement
Software Engineering Management Courses
CPSC 546: Modern Software Management
CPSC 548: Professional, Ethical and Legal Issues for Software Engineers
Capstone Experience
CPSC 597 I: Graduate Project in Computer Science
CPSC 597 II: Graduate Project in Computer Science
- All courses are three units. -
Spring

(First Term)

9 Units
Courses: CPSC 541, CPSC 545, CPSC 597(I)
Summer

(Second Term)

3 Units
Courses: CPSC 546
Fall

(Third Term)

12 Units
Courses: CPSC 542, CPSC 543, CPSC 544, CPSC 548
Spring

(Last Term)

6 Units
Courses: CPSC 547, CPSC 597 (II)
---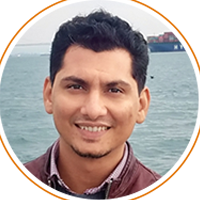 "I have been able to put all my coursework into practice and learned a lot through the OPT program, including project development and cloud infrastructure."
- Kaushik Bhalerao, AMSE alum
What's your next step?
View the upcoming webinars schedule or join the AMSE email list. By joining the list you will also receive program and application updates.
Webinar

Learn more about whether an advanced degree in software engineering is right for you at an upcoming webinar.